Michael DeBakey is dead!
Written by Ivo Mitsiev at in "General Surgery".
Michael DeBakey died at the age of 99.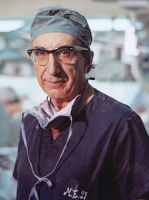 This surgeon published his first invention in 1933 and had an office at the Baylor College in Houston until his death yesterday (In Memoriam, Michael E. DeBakey, MD).
My former chief retired about a year ago and at the same day I left also the Medical Center where he and Dr. Thorsten Morlang made me a surgeon. At a ceremony for his retirement, Prof. Dr. Wolf J. Stelter (a 1994 president of the Michael E. DeBakey International Surgical Society) showed then pictures of his own chiefs through the years in different medical centers in Germany and in the United States. He started talking about them saying that, of all these men, only Michael DeBakey is still alive.
...And I was happy that my chief is alive.
Until some hours ago Michael DeBakey was a living legend... I can't write any more about this.
Rest in peace, Dr. DeBakey!